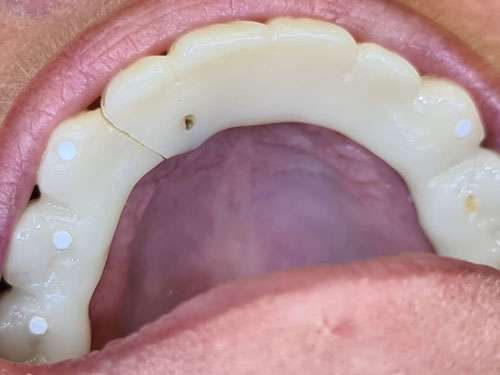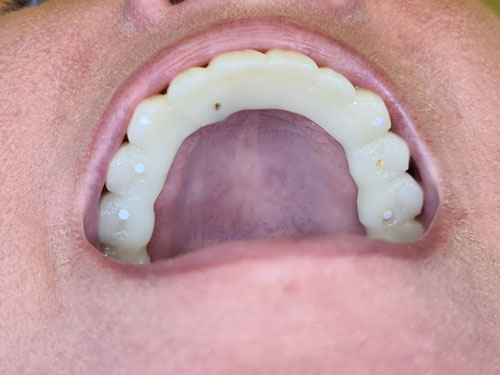 After the implantation process the patient received her first temporary restoration to try and see how the adaptation process undergoes and if some changes needed. Sometime after the patient came back because the temporary bridge cracked between teeth 12-13. although it was explained to the patient not to apply localized excessive forces, it turned out as a hard thing to do. The love for sunflower seeds could not be easily beaten. From the anatomic standpoint – two implants (12 and 13) were proximally implanted, tooth no. 12 is small in its volume and the Multi-unit sleeve and screw channel weakened it further more. Thus when the patient bit the sunflower seed, the localization of the force had broken the bridge. To bypass this problem the 3mm Sleeve that was used was changed to 1.5mm and the screw channel was eliminated.
The sleeve that was placed in bridge in place of tooth no. 12 now acts as a stopper.
The stopper doesn't have a screw channel and it cannot be screwed to the Multi-unit, it sustains vertical forces nonetheless.
Undercuts were made with a conical burr in the bridge for the cementation process of the sleeve.
The small undercuts increase the retention of the cementation procedure.
Using a 1.5mm sleeve as a stopper can be for aesthetic reasons as well as for strengthening the bridge.
Tip: it is easier to make cuts in zircon before Sintering while the material is still soft.
The V-Type Multi-unit system comes with a verity of sleeves – from the extra smallest for the most extreme cases to a large one for best cementation – 1.5mm, 3.0mm, 4.0mm, 6.0mm. All of the sleeves are color coded by height, making the work with them much easier and helping identifying the sleeves. In order to get the best results in this case the smallest 1.5mm sleeve for the V-type Multi-unit system was used