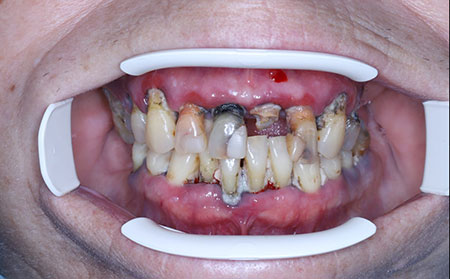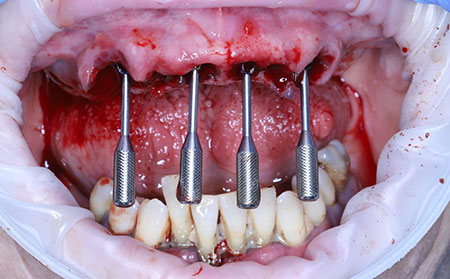 Patient in his 50's,
After long dental neglection which caused the loss of all maxillary teeth.
The patient came after tooth 21(8) broke and fell.
In the first stage , a restoration of the upper jaw was performed – extraction were made on the upper jaw, implants were placed and Multi-units were chosen.
For the anterior area four angulated Multi-units were chosen. As it can be seen, the screw channel after the correction are parallel and directed occlusally.
The handle of the multiunit can demonstrate the future screw channel. Each angulated multiunit comes with such a handle.
The parallel positioning of the screw channel after the angel correction.
Placing Scan body and scanning.
4 scan bodies D-type
1 V-type
The v type has a smaller cone and the hex is inside the multiunit, which is more suitable when there is not enough interocclusal space and what give more zirconia thickness – which strengthens the crown.
The D-type has a larger cone and an angulated version which has the same sleeve.
To know the VDO(Vertical Dimension of Occlusion) the patient was scanned twice –
Once his teeth were scanned prior the extractions, and second time with the scan abutments.
The second scan was positioned on top of the first.
A temporary bridge was designed and made from PMMA. The different sleeves were cemented for both V and D types.