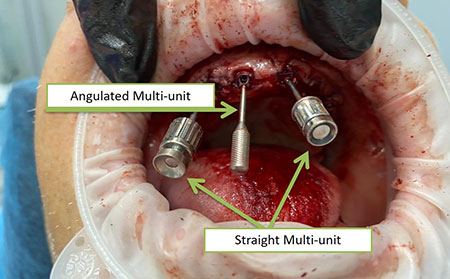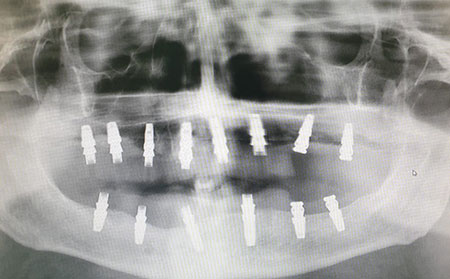 Patient in his fifties came with lost teeth.
Right after the extraction, implantation were made and the different Multi-units were chosen.
The Multi-units were chosen so that the screw channels will be parallel and in the occlusal direction.
The angulated Multi-unit comes with a handle that will help to predict the angulation of the future screw channel.
Right after the Multi-unit assembling, scan bodies were assembled on to the Multi-units.
For the straight Multi-units, V-Type Multi-units were chosen, and for the angulated were chosen D-Type.
The V-Type has a smaller cone and the hex is inside the Multi-unit, which allows to have a minimal cone that is more suitable when there is not enough interocclusal space and what give more zirconia thickness – which strengthens the crown.
The D-Type has a larger cone and an angulated version which has the same sleeve.
After the impression taking a bridge was modelled using exocad.
A temporary bridge was made from PMMA and the different sleeves were cemented for both V and D Types.